Verde Two TERRAVERDE Tower are perfect for those who want a luxurious place to call home and host lavish parties. Each of the 186 two- or three-bedroom homes in Verde Two has generous proportions, with windows that reach from floor to ceiling and ceilings that rise to the sky. Large windows, high-quality flooring, and unique molding and millwork highlight the grand proportions of the elegant common areas. Dornbracht fixtures and the finest imported stones adorn the spacious bathrooms and kitchens. The peaceful houses and the outside gardens provide an ideal setting for rest and exploration.
The Verde Two development was created in collaboration between FARPOINT and DIENER | SYZ Real Estate. Private equity business DIENER SYZ real estate is focused on the rapidly growing sustainable real estate sector in Asia. We produce the most desirable environments for long-term real estate investments.
By integrating stringent global investment criteria with strong local execution skills, we serve only institutional and qualified investors in Asia.
Our local presence in Shanghai and Jakarta and our active participation ensure that investments are carefully chosen and regularly managed.
As part of our efforts to reduce our environmental impact, we have adopted EDGE, the green building certification standard developed by the IFC World Bank, into our sustainable building evaluation framework.
As a result, we can evaluate the projects thoroughly in comparison to regional standards and improve the tower measurements.
SPECIFICATION
Living & Dining Room
Ceiling height: Up to 3 m
Ceiling: Gypsum board with emulsion paint
Wall: Lightweight concrete blocks with emulsion paint
Floor: Imported marble
Bedroom
Ceiling height: Up to 3 m
Ceiling: Gypsum board with emulsion paint
Wall: Lightweight concrete blocks with emulsion paint
Floor: Wood flooring
Door Engineered: solid wood
Bathroom
Ceiling height: Up to 3 m
Wall: Marble
Floor: Marble
Sanitary: ware & fittings TOTO or equivalent
Vanity top: Imported Marble
Door: Engineered solid wood
Service Area
Ceiling height: Gypsum board with emulsion paint
Floor: Homogeneous tile
Wet kitchen: Counter top, kitchen sink, stove and hood provided
Maid Area
Ceiling: Gypsum board with emulsion paint
Floor: Ceramic tile
Balcony
Door: Powder coated aluminium frame laminated glass
Floor: Homogeneous tile
Additional items :
Fire Safety: Smoke / heat detector, Fire alarm and fire extinguisher, Sprinkler & hydran
Electric capacity
2 bedrooms: 13,200 VA
3 bedrooms: 16,500 VA
Telephone: 1 city / line direct
Air conditioning: VRV system
Kitchen
Island kitchen: Caesarstone or equivalent
Oven: MIELE or equivalent
Cooking hob & hood: MIELE or equivalent
Sink: KOHLER or equivalent
Mixer tap: Dornbacht or equivalent
Refrigerator: MIELE or equivalent
Kitchen cabinet: Provided
Wardrobes: Built-in wardrobes provided in all bedrooms
Vanity: Vanity provided in all bathrooms
Water heater: Hot water supply provided in all bathrooms and kitchen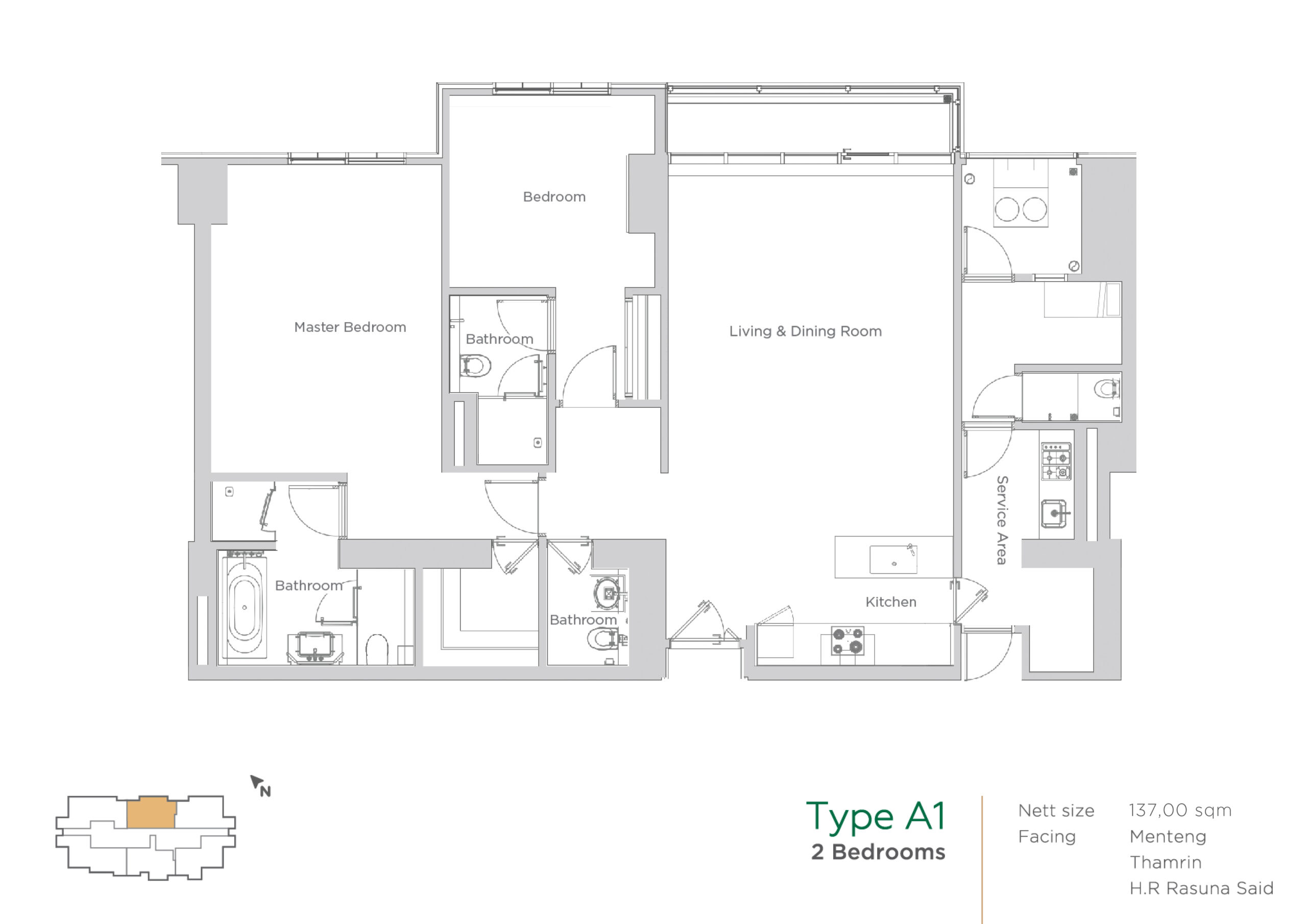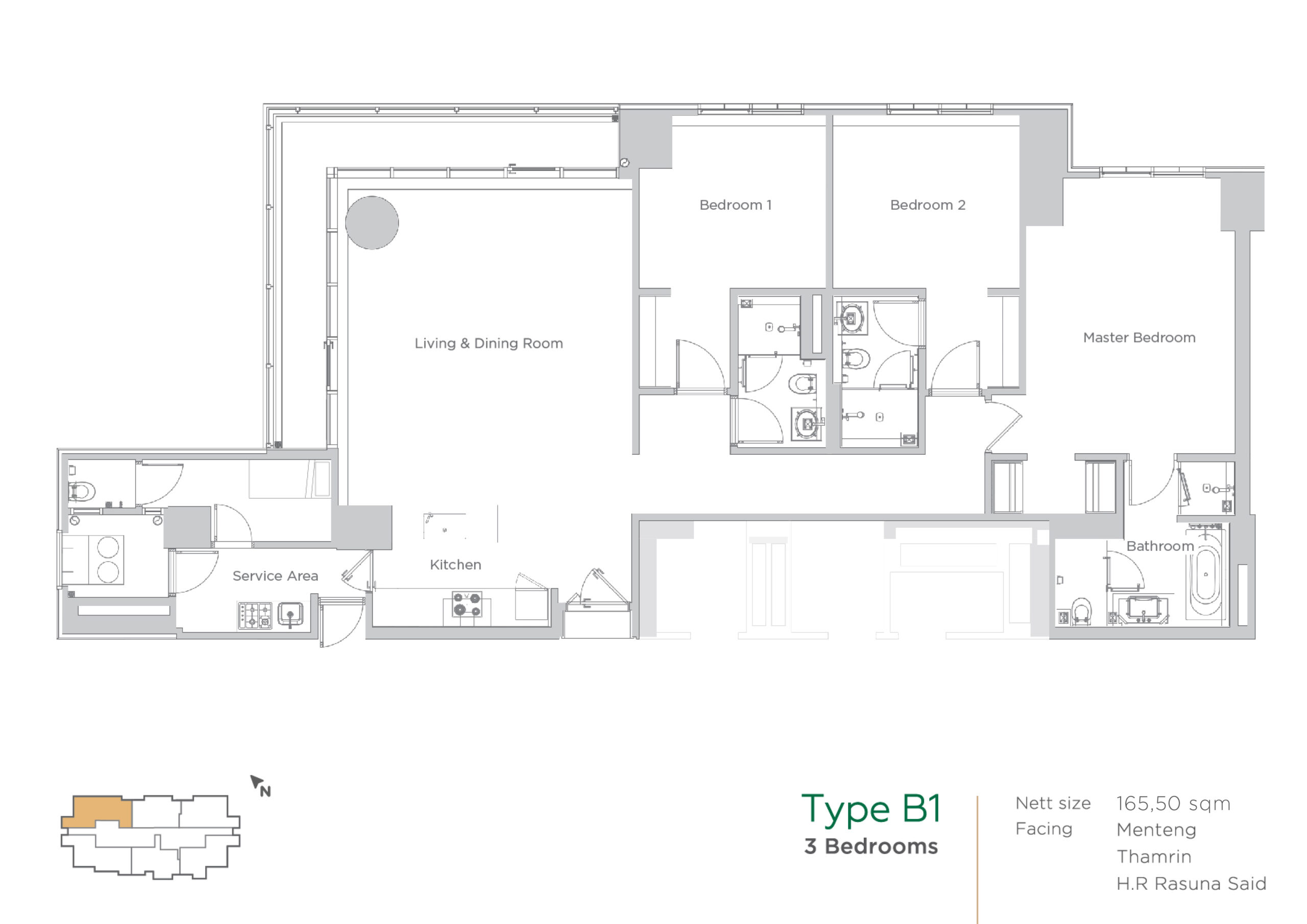 Type B1 3 bedrooms nice living room and corridor
Learn more about MONTEVERDE